New Song 'Misery' Coming Soon - Pre-Order Now!
New single 'Misery' out October 19th 2023
Expected release: October 19, 2023
Read more…
Live Events 2023
We unfortunately had to back out of this show. We will not be playing on Dec 2nd. We wish the other bands good luck. This is a great cause so it was not a light decision to cancel but we felt we had to do so. We want all Sick Century shows to sound as great as humanly possible. As of yesterday and after several attempts over the past few week, we determined this was just not a possibility.
We will see you all December 13th at Lovedrafts. All our earnings for the show will go to the Toys for Tots Foundation.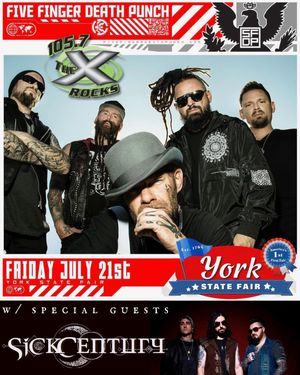 BREAKING NEWS: SiCk Century to Open for Five Finger Death Punch this Friday July 21st 8pm - York, PA